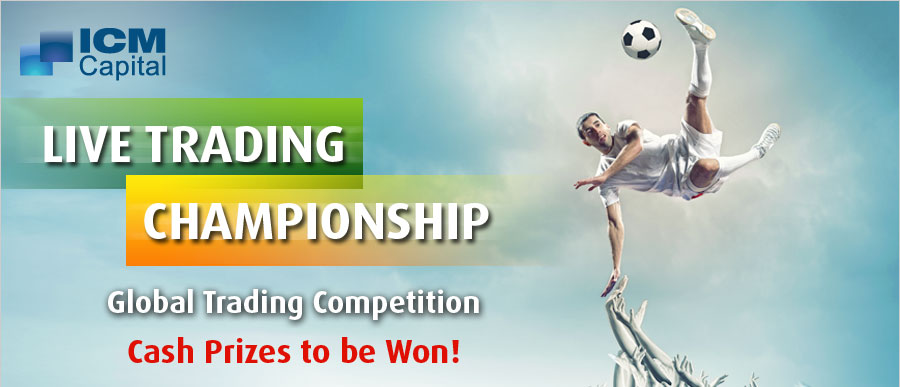 Resultado do campeonato
Please find below the top 5 traders:
[macroErrorLoadingPartialView]

We'd like to congratulate our traders on their fantastic progress in the ongoing Live Championship. We have seen some extraordinary strategies!

Due to confidentiality and privacy we do not disclose account numbers or names, however individuals can monitor their progress by identifying their nick name if they have reached the top 5.

This page will update every 5 minutes.

All participants still have till 6 de setembro de 2014 to have the chance of winning 2,000 USD, 1,400 USD or 600 USD trading credit bonus to use in a Live Trading Account.

ICM Capital wish you all the best in your trades and good luck!
CFD e FX Spot são instrumentos complexos e vêm rapidamente com um risco alto de perder seu dinheiro devido a alavancagem. 72.87% de contas de investidor de varejo perdem dinheiro ao comerciar CFDs com este provedor. Você deveria considerar se você entende como CFDs e FX Spot trabalham, e se você pode dispor correr o risco alto de perder seu dinheiro.
A ICM Capital Limited é autorizada e regulada pela Financial Conduct Authority (FCA) com o número de registro: 520965
A ICM Capital Limited é uma subsidiária integral da ICM Holding SARL, cujo endereço registrado é: 121, Avenue De La Faïencerie, L-1511 Luxembourg.
A ICM Capital Limited é uma empresa registrada na Inglaterra e País de Gales, com número de registro: 07101360.
Endereço de inscrição: ICM Capital Limited, New Broad Street House, 35 New Broad St, Londres EC2M 1NH, Reino Unido