Fundamental
Like many countries around the world, the pandemic has affected the economic activities in New Zealand reducing inflation and employment below the Bank's objectives. To counter the spread, restrictions and curfews were embedded into the system to minimize the damage, where new cases have been greatly diminished and stable since May. Even with successful containment of the disease spread, the country's trading partners are experiencing economic disruption and declining activity affecting the exports of goods and services as they account for roughly one-third of real expenditure GDP.
New Zealand's Q1 actual GDP at -1.6% (below) -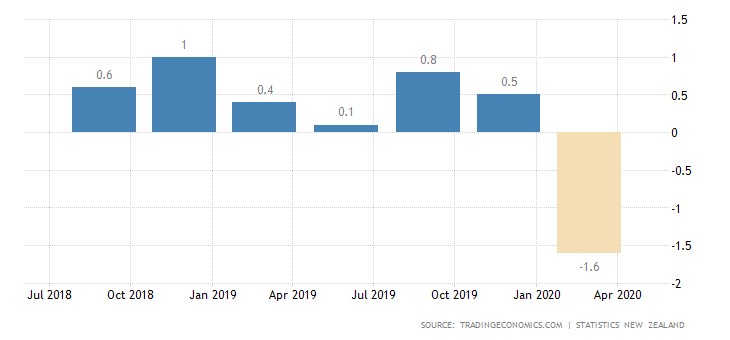 According to the Monetary Policy Committee, the main support for the economy will be provided through increased fiscal spending and keeping interest rates low for the foreseeable future. The Large Scale Asset Purchase (LSAP) program is currently at $60 billion and the Official Cash Rate (OCR) currently held at 0.25 percent. Furthermore, the committee is open for further reductions in OCR, adding other types of assets to the LSAP program and providing fixed-term loans to banks if and when needed, especially when the view on the balance of economic risks is still to the downside. A further rise in New Zealand's dollar against the US dollar will put pressure on export earnings adding to the economic despair.
The Reserve Bank of New Zealand is set to release its Interest Rate Decision and the Monetary Policy Statement on Wednesday, August 12th at 2 AM GMT.
Technical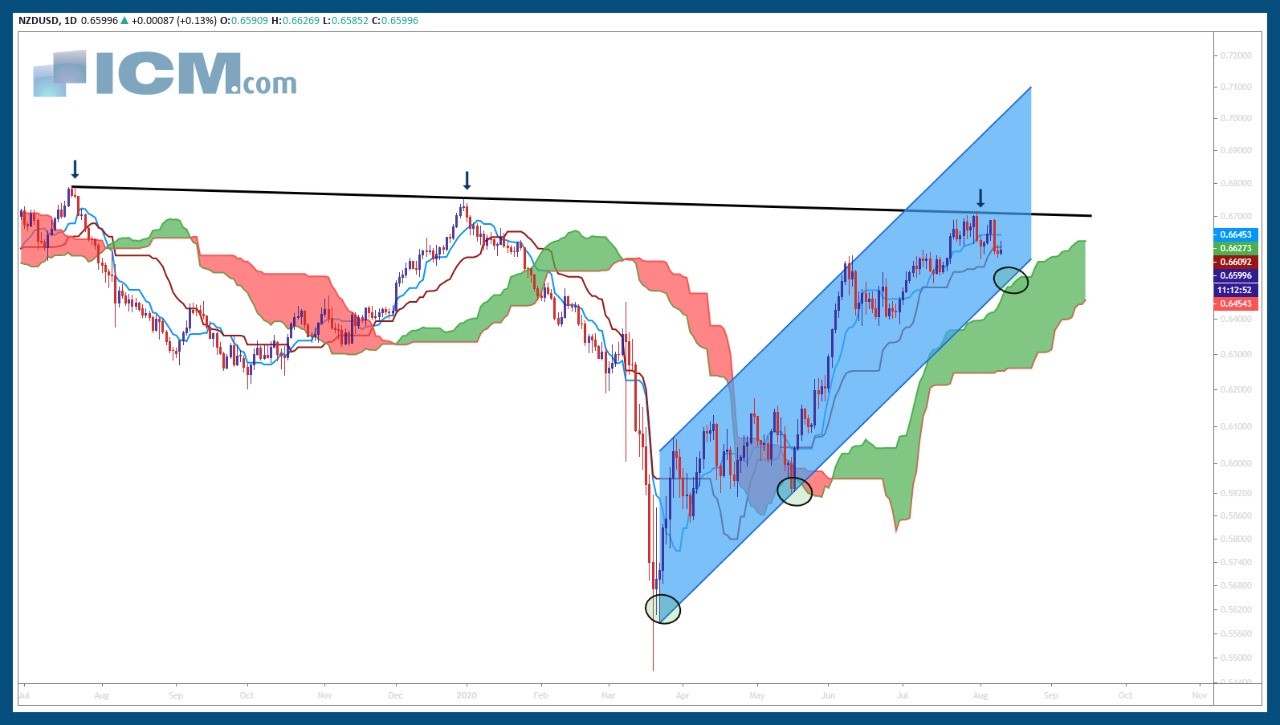 Strong resistance found at the 0.67 level
Price still trending in the bullish channel and above the Ichimoku cloud
Disclaimer
The prices and news mentioned in this outlook are absolutely no guarantee of future market performance and do not represent the view of ICM.COM. Financial markets can move in either direction causing profits to be made or complete losses to be incurred by the trader. Each trader must decide for themselves what their risk appetite is and ensure that correct risk management procedures are in place before placing any trades.