Fundamental
Since the last Reserve Bank of Australia's Rate statement on July 7th, the Bank maintained its current policy settings and has not made any new purchases of government bonds for some time, leaving the total purchase of around $50 billion as its ready to scale-up any additional purchases if needed to achieve the yield target for 3-year Australian Government Securities (AGS) of around 25 basis points. Moreover, it was mentioned that the downturn was less severe than expected due to the quick easing of restrictions on the country's economic activities.
The quick easing has backfired as Covid-19 cases spiked, reaching double the number of active cases by July 31st. As such, Danial Andrews, the premier of Victoria announced a "state of disaster" on August 2nd, placing even stricter lockdown measures on Australia's second-biggest city, closing all cafes, bars, restaurants and moving schools back to online learning. These new rules will be enforced until at least September 13th.  He also mentioned that there is no possibility of "economic recovery unless and until we get these numbers down", estimating these measures to cost the local government $1 billion a week. How will these new lockdown measures affect the Bank's policy settings?
The Bank's strong stand against any negative interest rates will remain firm, confirming interest rates to stay at 0.25%. This would only leave the Bank to implement further fiscal maneuvers if needed possibly by scaling up additional bond purchases to support local businesses and their employees.
Technical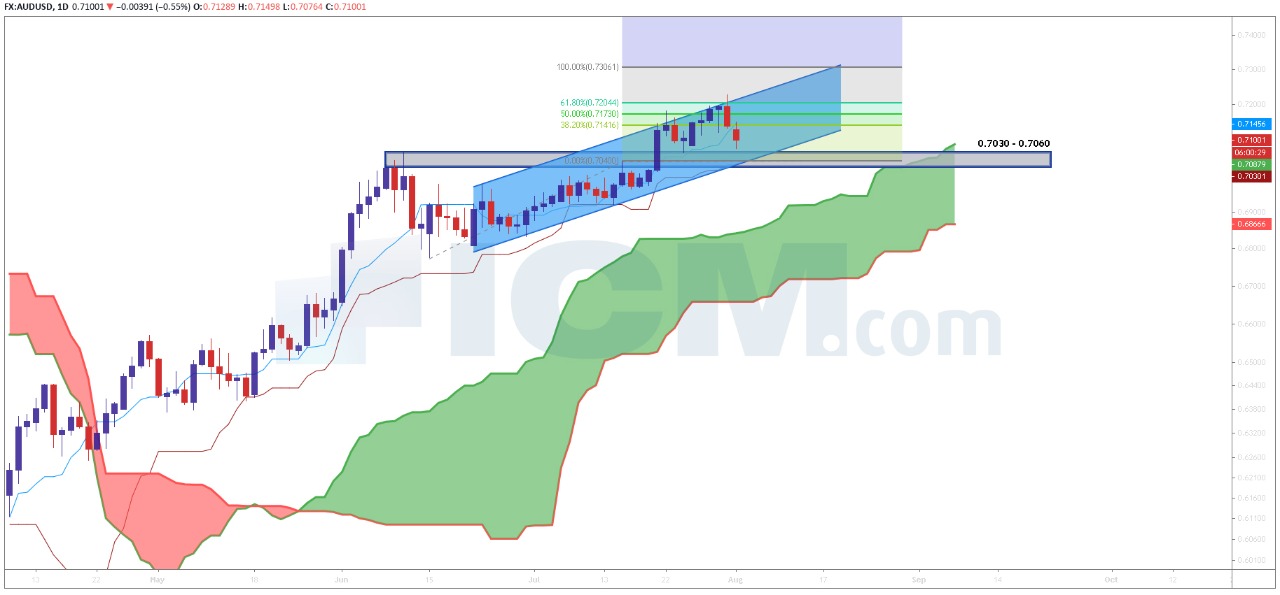 The Ichimoku cloud indicating strength in the price
Price is still respecting the bullish channel on the daily chart
Short-term support in the 0.7030 - 0.7060 area
Disclaimer
The prices and news mentioned in this outlook are absolutely no guarantee of future market performance and do not represent the view of ICM.COM. Financial markets can move in either direction causing profits to be made or complete losses to be incurred by the trader. Each trader must decide for themselves what their risk appetite is and ensure that correct risk management procedures are in place before placing any trades.