Fundamental
Gold has gained mostly on the back of massive stimulus measures and very low-interest rates and on the fear of coronavirus breaching new highs daily, keeping in mind that the precious metal performed well in 2008/2009 during the financial crisis but reached all-time highs in 2011 only when the Fed was providing ample monetary support to the markets. Now, central banks around the globe are keeping an open-ended monetary policy (not to be reduced anytime soon), why are we not seeing gold break prior highs?
Historically, gold has always been a safe-haven option, widely considered a hedge against inflation and currency debasement but with so much happening with the global economies due to the pandemic, most financial assets have lost their norm. Typically, when Wall Street is having a lousy day, gold would be rising. It hasn't been that simple with the risk-on, risk-off sentiment as the dollar can act as a safe-haven, competing with gold for cash amongst worried investors, especially when it comes to US-China tensions.
This time around the Fed is utilizing its monetary policies more elaborately by establishing new credit and liquidity facilities to alleviate severe dislocations that arose in several financial markets and to support the flow of credit to households, businesses, and state and local governments. Moreover, the Fed and several other central banks announced the expansion and enhancement of dollar liquidity swap lines and the introduction of a new temporary repurchase agreement facility for foreign monetary authorities. Furthermore, several adjustments made to its regulatory and supervisory regime to facilitate market functioning and reduce regulatory impediments to banks supporting households, businesses, and municipal customers affected by COVID-19. With all this said, the dollar seems to be the leech tied around gold's further upside.
Technical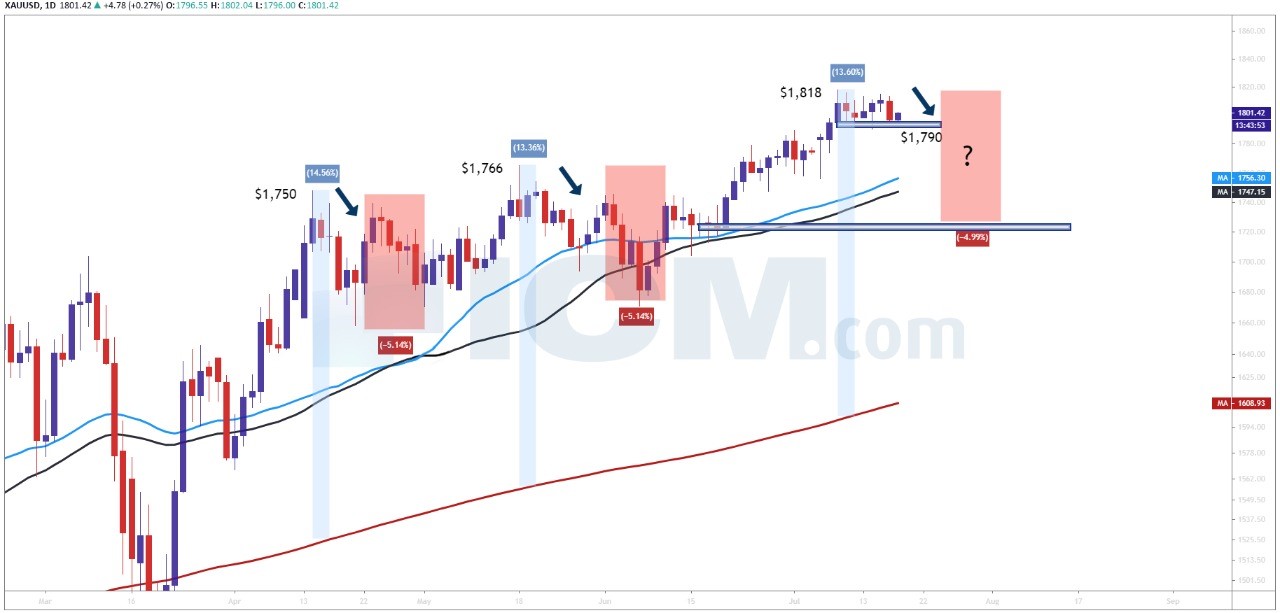 Gold is still trending strongly above the 200-day simple moving average.
When gold deviates above 13% from the 200-moving average, a retracement of around 5% has occurred twice.
Prices currently are holding above 13% deviation, is a retracement due?
Disclaimer
The prices and news mentioned in this outlook are absolutely no guarantee of future market performance and do not represent the view of ICM.COM. Financial markets can move in either direction causing profits to be made or complete losses to be incurred by the trader. Each trader must decide for themselves what their risk appetite is and ensure that correct risk management procedures are in place before placing any trades.