Fundamental
To help sustain growth and employment, the Bank's Monetary Policy Committee's main foundation is to meet the 2% inflation target; as such, monetary policy will be adjusted as needed to maintain the target. Currently, all economic data are disrupted caused by the pandemic forcing the central bank to take extreme measures. In June's meeting, the Committee voted by a majority of 8-1to increase the target stock of purchased UK government bonds by an additional 100 billion pound to reach a total of asset purchases of 745 billion pound. Furthermore, the Bank's interest rates were voted unanimously to hold at 0.1%, which was set in March to be historically recorded at the lowest rate.
The pandemic has caused the economy to fall by 2.2% in the first quarter of 2020, the largest drop in the country's GDP since the third quarter of 1979 (as shown below)-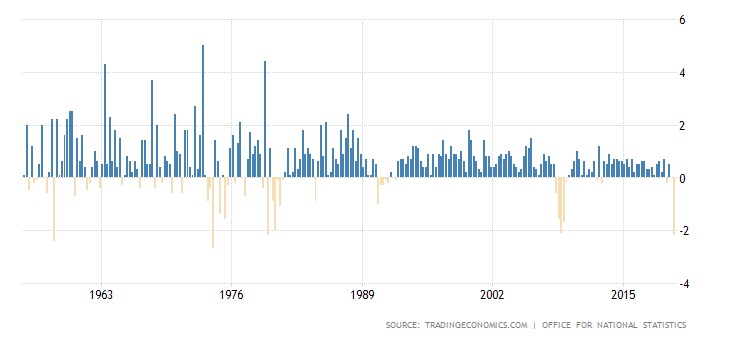 Precautionary behavior by households and businesses due to Covid-19 restrictions on economic activity will likely increase the risk of higher unemployment and place further pressure on the weakness of demand.
The global collapse in oil prices has contributed directly to the country's inflation, combined with a sharp drop in domestic activity affecting the CPI (12-month rate) to fall from 1.8% in January to 0.5% in May, picking up slightly in June to reach 0.6%. The Committee judges expect further fall in inflation in the coming quarters and that a further easing of monetary policy is warranted to meet its statutory objectives.
The Bank's Governor Andrew Bailey's decision on negative rates "is not in any sense imminent, it's a complex issue". Could we see a similar scenario to what the Reserve Bank of Australia did yesterday, leaving rates unchanged but increased bond purchases?
Technical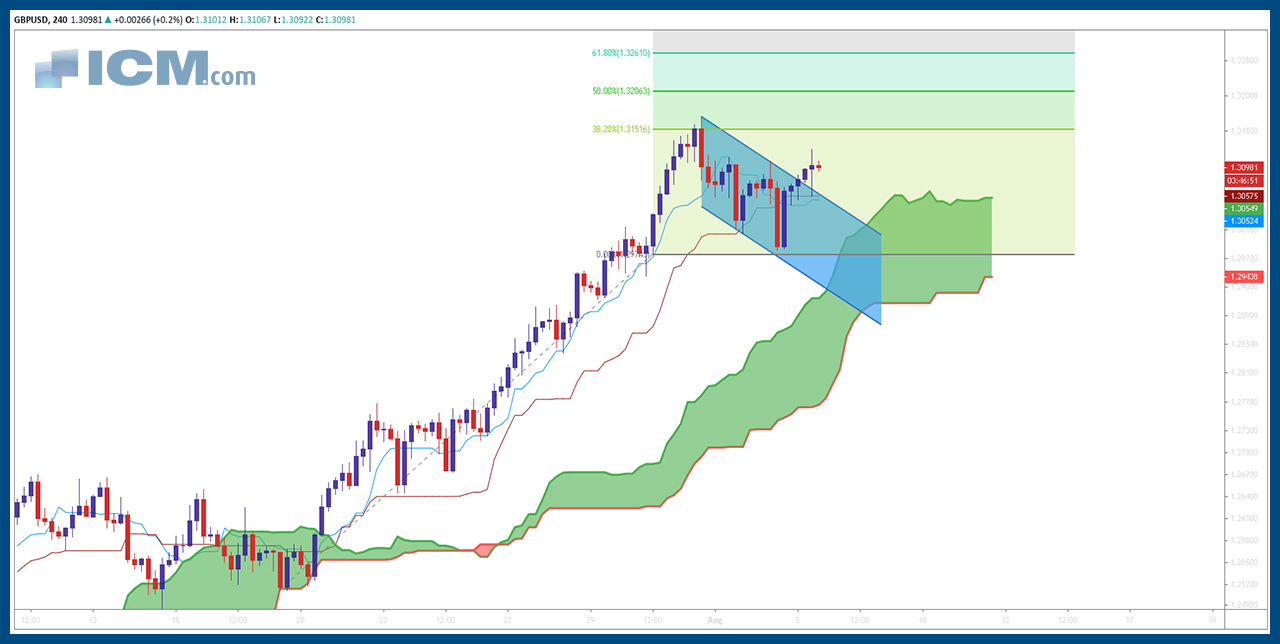 Price broke out of the short-term bearish channel
Price found strong support just below the psychological level of 1.30
Ichimoku cloud indicating strength for the pound
Disclaimer
The prices and news mentioned in this outlook are absolutely no guarantee of future market performance and do not represent the view of ICM.COM. Financial markets can move in either direction causing profits to be made or complete losses to be incurred by the trader. Each trader must decide for themselves what their risk appetite is and ensure that correct risk management procedures are in place before placing any trades.