Please note that a MetaTrader 4 upgrade is scheduled to take place this weekend, 16th April 2016.
We therefore kindly request you to re-familiarise yourself with your login and password credentials, in order to smoothly access your mobile trading account from Sunday onwards. You can easily reset your password via ICM Access if required. Desktop login in should not be affected.
You will be requested to configure your mobile trading account from scratch.
This can easily be done by clicking on the "+" button in your MT4 mobile platform screen, selecting "Login to an Existing Account", entering "ICM Capital" in the search box and then choosing "ICM Capital-Real" to log in.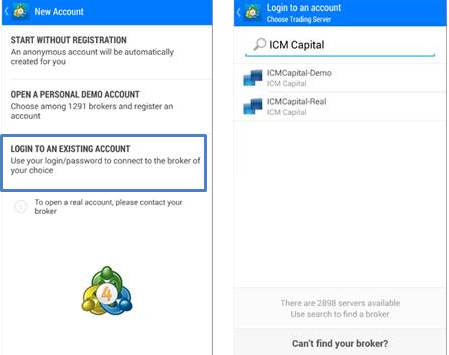 In case of any query, please do not hesitate to contact our Client Services team on +44 207 634 9770 or email us at clientservices@ICMCapital.co.uk.You can also visit our website www.ICMCapital.co.uk and have the benefit of our live chat support.
Wish you all the best with your trading!