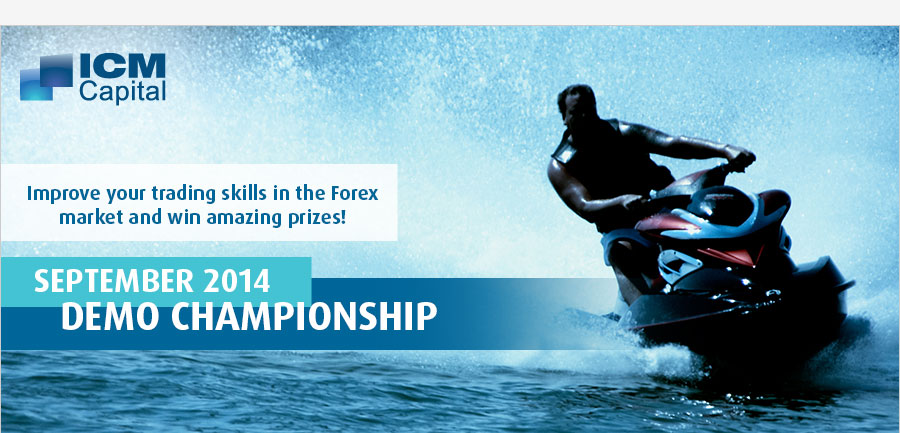 Meisterschaft Ergebnisse
Please find below the top 5 traders:
We'd like to congratulate our traders on their fantastic progress in the ongoing September 2014 Demo Championship. We have seen some extraordinary strategies!
Due to confidentiality and privacy we do not disclose account numbers or names, however individuals can monitor their progress by identifying their nick name if they have reached the top 5.
This page will update every 5 minutes.
All participants still have till Freitag, 3. Oktober 2014 to have the chance of winning 2,000 USD, 1,400 USD or 600 USD trading credit bonus to use in a Live Trading Account.
ICM Capital wish you all the best in your trades and good luck!
Bitte lesen Sie die allgemeinen Geschäftsbedingungen
Das Handeln von CFDs oder Spot FX birgt ein hohes Risiko und Sie können möglicherweise mehr Kaptial verlieren als Sie eingezahlt haben.
ICM Capital Limited wird von der Financial Conduct Authority (FCA) Registernummer: 520965 genehmigt.
ICM Capital Limited ist eine hundertprozentige Tochtergesellschaft der ICM Holding SARL, eingetragene Adresse: 121, Avenue De La Faïencerie, L-1511 Luxembourg.
ICM Capital Limited ist ein in England und Wales eingetragenes Unternehmen mit Sitz: 07101360.
Eingetragene Adresse: Dauntsey House, 4B Frederick's Place, London, EC2R 8AB, Großbritannien.